The Principal Architect
Marie Stephanie N. Gilles
Architect MARIE STEPHANIE N. GILLES is currently the Principal Architect/ Planner of SNG Design Enterprise, a dynamic service- oriented design firm that has had projects all over the country and even abroad during its more than 2 decades of service.
In 2008, during the Diamond Jubilee celebration of St. Joseph's College QC, she was awarded as the Most Outstanding Alumna in the Field of Architectural Design by her Alma Mater, where she graduated as class valedictorian in both elementary and high school.
After graduating from the University of the Philippines Diliman, she  already had the opportunity to work with leading professionals in  the field. Her first project exposure was the Union Bank Main Office  renovation in Pasay.
Under the mentorship of Ar. Roger and Roy Villarosa, she formed part of the team that worked on  notable projects such as Shangri-la Hotel/ EDSA Plaza in Mandaluyong,Tektite Towers and  Alexandra Condomimiums in Ortigas, King's Court in Makati, among others. As a Senior Partner at  PDP Architects, she headed the team that designed Unilever Offices along UN Avenue, BPI  branches all over the country, and several schools such as Casa Real Montessori in Cavite.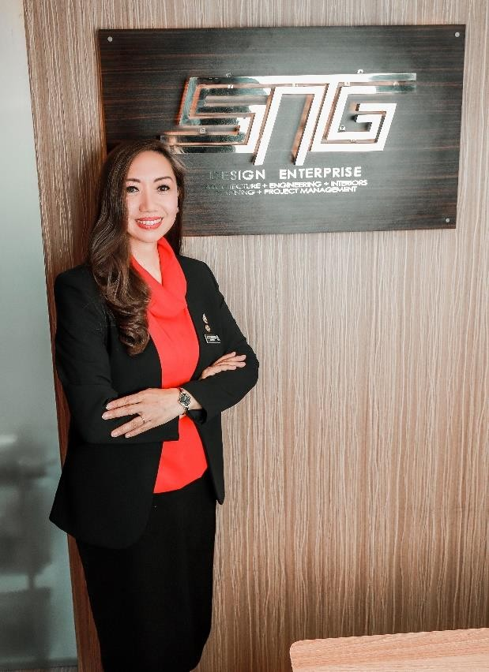 With her exemplary experiences, a number of office projects have been entrusted to her expertise, some of which are:
– Coordinated design and feasibility study of a 5-storey building, Knowledge Management and
– Innovation center in UP Diliman Campus,
– Interior fit-out for Valdez Gomez & Associates Law Office in Quezon City,
– Trec Global Inc. Office in Taguig City,
– Design Management of UNILEVER Offices (Pharma and SRC Buildings) along UN Avenue in Manila (with Pinnacle Design Professionals)
– Lobby of Pacific Century Tower along Quezon Avenue in Quezon City,
– SNG Design Enterprise Office in Pacific Century along Quezon Avenue in Quezon City
– Renovation and interior fit-out of several units In Pacific Century Tower such as dental office,  architecture office, and sales office located along Quezon Avenue in Quezon City
– Renovation  and  interior  fit-out  of  Micro  Finance  Management  at  the  Asian  Institute  of  Management (AIM)
– Design and interior fit-out of Belrose Communication, Main Office at Citiland Plaza in Makati (2 units)
– Design and construction of 3-story office building and warehouse for FRV Trucking Head Office near West Avenue in Quezon City
– Design, space planning layout, and project management of 3-storey Campanilla Building Office along Balete Drive in New Manila, Quezon City
– Space Planning and interior fit-out of Casa Real Park place Administration Building in Imus,  Cavite
– Interior fit-out of Offices in Kanluran-Kamawi Building of the Philippine Foundation for Cultural and Educational Development, Inc,, Makati
– Design and interior fit-out of Offices in Tahilan-Maligaya Building along Leon Guinto in Manila
– Interior fit-out of Offices in Trimont Center in Singapore
– Design and construction management of Bank of the Philippine Islands (BPI) branches under  Pinnacle Design Professionals (PDP Architects)
A registered architect, licensed environmental planner and real estate broker, soon after taking the  Licensure Board Exam for Architects, she took a 3-year course in Italy at the Centro Internazionale  di Studi where she was appointed professor while finishing her academic coursework.
In March 2018, she was given the Women Icons Asia Award during the Women Icons Asia Summit in  Singapore. Within the same month, she was awarded as Outstanding Filipino Achiever by the  Golden Globe Annual Business Awards. For three (3) consecutive years from 2016 to 2019, she was  given the Presidential Award for Outstanding Leadership and Service at the United Architects of the  Philippines.